Lean, flavourful and good for you. Grass fed beef is more than just tasty, it is a healthy way to eat.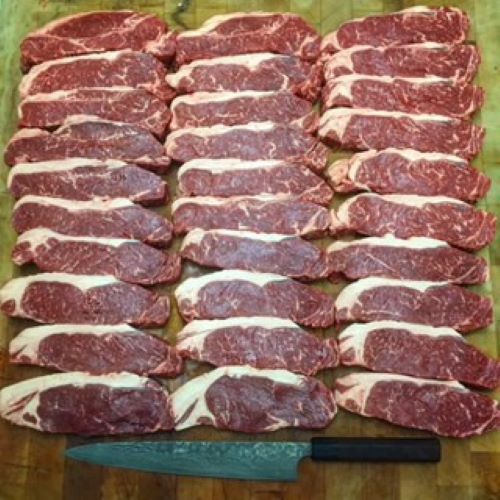 What is Grass-Fed Beef?
Locally raised beef without antibiotics, added hormones, animal by products or grain and are raised on free range pastures without herbicides or pesticides.
Locally sourced, located at the base of the Handhills, just east of Drumheller, Alberta, this is where you'll find Top Grass Cattle Co.
This is where Calvin lets him cows roam during the spring, summer and fall on mostly native prairie grasses that have been undisturbed for thousand of years. If you've ever been you know the landscape is one of deep coulees, rolling hills, creeks, big blue skies and grass as far as you can see. This is truly a Cows paradise. And if I am honest, mine too.
So don't all cows eat grass? Yes while that is true, cows were designed to eat grass however not all cows are fed a natural diet for their whole lives. Cows that eat only grass are what gives us our "grass finished" beef, meaning that they have never been fed grains. Most cows are "grain finished" (generally on a feed lot) on a diet of mainly corn and soy, which makes for a quick weight gain and a higher percentage of fat in the tissue.
WHY CHOOSE GRASS-FED BEEF
As part of a healthy balanced diet, Beef overall is an excellent source of many nutrients and is rich in vitamins A, B, and E, as well as the all important antioxidants. Since grass fed beef is noticeably leaner, it is also lower in calories than grain-fed. Grain-fed also contains up to five times as many omega-3 fatty acids when compared to grain-fed beef. Get yourself those good fats!
WHERE TO BUY GRASS-FED BEEF IN EDMONTON
If Google has you lost in a search for "grass-fed beef edmonton" then you finally found your place.
Acme Meat Market has been working along side Calvin and Top Grass Cattle for years. With fresh beef coming in every 2 weeks you are always going to find high quality grass-fed beef in store .
Talk beef with you butcher to discuss what cuts you have in mind by giving us a shout. Or stop by the shop, located in the beautiful Ritchie Market just south of Whyte Ave and 96th street.